Chapter 5 – Illegal Attachments
The Challenge
The growing number of unauthorized attachments on utility poles, as well as unauthorized occupants in conduit vaults, is a problem in the US. Trespassers forego the standard permitting process to deploy their services quicker and cheaper to local residents. Trespass comes in a variety of forms in many different joint use spaces. Let's take a look at each.
Handholes
As we learned in Chapter 1, handholes and pedestals are spaces in residential neighborhoods that place service cables underground. In new construction areas, it is no problem for unauthorized companies to physically move conduit and ducts into their own spaces. They illegally use the space to deploy services faster.
Manholes
Manhole spaces are found in cities and some residential areas. Like handholes, they hide the cables that connect the nation underground. Usually, trespassers come in fast and quick to these spaces, leaving behind damage, structural harm, and violations. Unauthorized occupants use additional space in the vault without paying rent. They know that if owners are not doing routine inspections, they are unlikely to get caught. Best practices are not usually followed by unauthorized companies, especially since the vault space is not their own investment. Trespass in manholes creates a domino effect: bad practices by trespassers leave behind violations, structural damage, and unsafe conditions.
Utility Poles
For utility poles, a lack of communication is often the culprit for unauthorized attachments. Given the growing number of attachers, utility pole owners are commonly facing illegal attachers acquiring space on their investment. For poles, this violation is sometimes referred to as bootlegging. Illegal attachments may occur for a variety of reasons, but a lack of communication seems to be the common thread. With so many companies involved—power, telecommunications, CATV, broadband, and wireless—plus the multiple departments from each company that must be engaged in each asset, communication is a growing challenge. Throw in the third-party contractors and linemen that must be involved for each asset, and it's no surprise that successful coordination and communication is difficult for managing joint use.
The Solution
Unauthorized attachers and occupants can be caught and found through routine inspections of assets. Geo-targeted field audits, in which every pole or vault in a specific area is thoroughly examined, gives owners clear insight into the activity in or on their assets.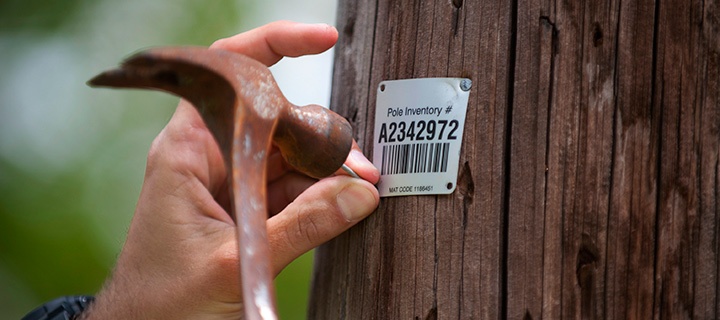 To ensure success, owners should hire professionally trained audit teams with previous audit experience. The audit should include records of asset location, asset type, documentation of all attachments or occupants, a thorough safety audit, and structural tests. Depending on whether the space is a pole or a conduit vault, teams should inspect the appropriate details of each structure. An accurate depiction of rentable space for each asset gives owners a chance to use their investment for permitted attachments/occupants. Further, routine audits ensure quality engineering practices for both owners and attachers or occupants.
Asset owners are responsible for every asset they own. Ongoing problems, like trespass, can create detrimental results like structural damage. For field linemen's safety and for the general public's safety, audits should be performed routinely. Ongoing inspections are necessary to detect, remediate, and prevent hazardous violations before they occur.
Aside from routine audits, the use of an asset management system is the best way to gain control over assets. The expansion of technology has created a growing attachment conundrum on poles all over the U.S., and likewise technology now allows pole owners and attachers the clarity of every activity on or in their asset space. With an asset management system, owners and attachers can move forward without the hassle of stacks of paper, faxes, and email. See Chapter 9 for more information on a joint use platform.